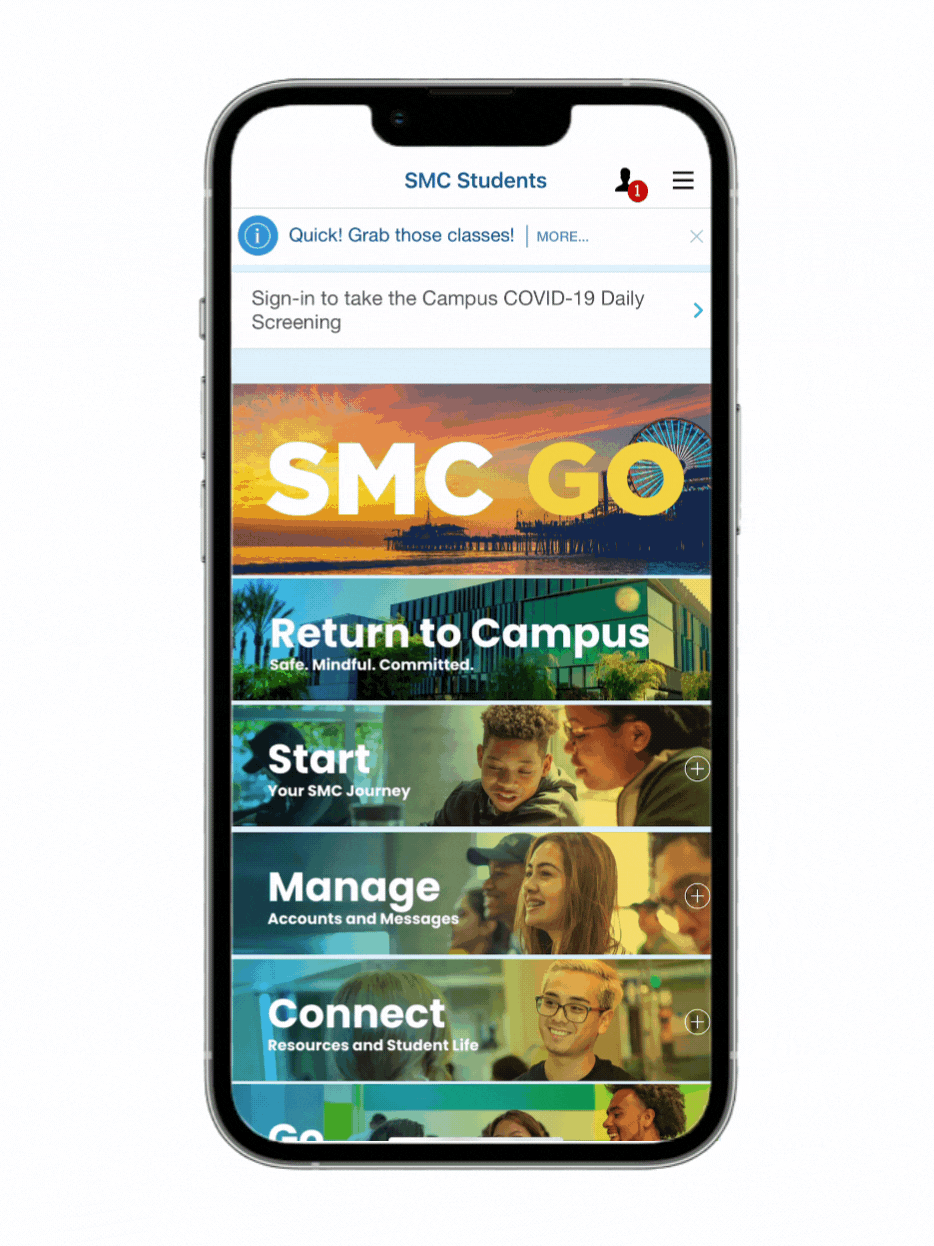 I redesigned the SMC GO App with the design team at Santa Monica College in partnership with Modo Labs. I utilized UI/UX design through sitemaps, wireframes, research, interviews, and surveys. We prototyped various design concepts and layouts in Figma and ultimately used Modo Labs software to implement the app. I collected images, designed the layout, illustrated icons, and created content. 
The app won first place in "Best Design" and second place in "Best Commencement Module" at the Modo Appademy Awards.
This
project was completed in ten months.
It all started when our SMC team focused on helping to promote counseling for online students with an app redesign, social media ad campaigns, and a website redesign. The other overarching goal was to create community online. We began this project in March 2020 just as everyone transitioned from on-ground to remote courses. We worked as a team to interview, conduct surveys, research, ideate concepts, prototype new ideas, and execute our final results. The SMC Go redesign began after this initial project. 
Our team conducted a survey through the app including a competitive analysis of other college's app designs. We designed a sitemap and sketched prototype ideas. This resulted in two different prototypes designed in Figma, Adobe Illustrator, and XD. We designed a third prototype after combining the two. We used these prototypes for deciding on the layout of the home page and generating icon ideas. This was before we partnered with Modo Labs and started working directly in their app software. 
Our final redesign included many of our solutions to make the designs and text clear and guide students through the app in an organic manner while also maintaining a fresh clean look without as much blue and extra pages. The app is now functional as well as aesthetically pleasing utilizing many gradients in the images and hand drawn icons from our team. We followed the brand guidelines with fonts and colors as well as maintained a fun and engaging platform for the users' needs. We focused on the messages and opt-in channels to help students get the information they needed. They also encourage students to sign up for campus groups to help them become more involved and build community through the app and ultimately on ground as well. Many college departments contributed to the process to make sure that all aspects of the college were accurately portrayed on the app and everyone was able to communicate their messages to the students. Overall the designs, text, images, videos, and technological features and developments were extremely well thought out and implemented to help the student users easily navigate their college experiences.